I participated as a Delegates Of "Bangladesh Awami League" in the 5th Meeting of the ICAPP Youth Wing and the 6th Meeting of the ICAPP Women's Wing of the International Conference of Asian Political Parties (ICAPP) at Baku, Azerbaijan.
Here is my speech in written text: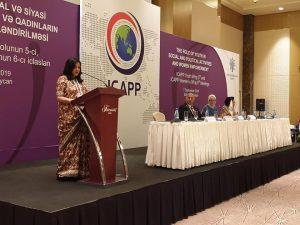 Bismillahir Rahmanir Rahim; Assalamu Alaikum and good evening.
Designated guest, I am pleased to welcome you all. Last 19 years International Conference of Asian Political Parties is advancing trades and collaboration between Political Parties from various nations in Asia and improves common comprehension and trust among Asian nations. This is really a breathtaking moment for me. On this global platform, I would like to share my own experience as a Bangladeshi woman. When I was waiting at the lobby of Hazrat Shahjalal International Airport Dhaka, I saw almost 25 female police member in the immigration at midnight. 20 years ago, this scenario wasn't regular in Bangladesh. Nowadays, the number of working women increased to 18.6 million, as Mulism populated country this number is huge. Bangladesh secured the 47th position among 144 countries in 2017 as per The Global Gender Gap Report.
Bangladesh has been a good example in women' empowerment in the previous decade, and the nation is encountering a calculable change in the public arena on account of its endeavors in such a manner. The idea of women's empowerment and endeavors here has helped the nation accomplish consistent advancement in gender equality. Half of the number of inhabitants in Bangladesh is women and their monetary interest has expanded essentially. Indeed, national policies have additionally been reflected in the approach to guarantee women's progression with the goal that women have authority over their lives and play an influential role in society as decision-makers. Bangladesh's accomplishments in the previous decade have been praiseworthy in numerous segments, for example, in reducing infant and child mortality, poverty alleviation, increase in women entrepreneurship, education, and health.
By the direction and vision of our father of Bengali nation Bangabandhu Sheikh Mujibur Rahman, Bangladesh has made consistent policy and program interventions from the 1970s onwards to improve women's condition and reduce gender inequality. Early interventions were made in the field of family planning to reduce fertility was introduced to provide opportunities for income earning. From 1996, there were efforts made to expand primary education, achieve gender parity in secondary schools through special stipend for female students and improve maternal mortality. Since 2009, Under the leadership of our prime minister Sheikh Hasina mobilization of rural women to get services and use of women community level workers to provide doorstep services in health and family planning played an important role in improving infant, child and maternal health and income-earning opportunities.
Our Prime Minister Sheikh Hasina was honored with the Global Women's Leadership Award for her outstanding leadership for the advancement in women's education and women entrepreneurship in Bangladesh and in Asia Pacific region. Earlier in 2016, UN Women also awarded Sheikh Hasina with "Planet 50-50Champion". She also received the "WIP Global Forum Award", "Tree of Peace" Award for promoting girls' and women's education; "Agent of Change Award" for her role in women's empowerment. To attain the goals initiated by the Bangladesh government for women and youth development, the country has approved the highest allocation in history for the sector in the budget for every fiscal year.
Bangladesh government considers women's participation as a vital issue in the path of women's empowerment as one of the main drivers of transforming the country's status from low-income to middle-income one. Women's advancement through access to education, health, labor market, employment, and social protection have been prioritized, in the latest budget which is around 30% of total budget size. The government also has allocated 1 billion takas for Women Entrepreneurship Fund and 25 crores Bangladeshi taka for Women Development Special Fund this year. Participation of girls in primary schools is increasing as their overall enrollment rose from 57% in 2008 to 95.4% in 2017. Under the vision of 2041 of our Prime minister Sheikh Hasina, Bangladesh has topped the Gender Gap Index in the primary and secondary education category, and to continue the efforts to this end, the government has extended its stipend program for female students and undertaken initiatives to make women-friendly environment and infrastructures.
In 2011, Sheikh Hasina formulated and adopted the progressive and comprehensive 'National Women Development Policy'. This provided, for the first time, an exhaustive list of goals to socially, economically, politically and legally empower the women of Bangladesh. Our Prime Minister is the only female leader among the Organization of Islamic Cooperation member states, Sheikh Hasina has deftly navigated the competing demands of Islamic tradition and women's rights. Sheikh Hasina, as widely recognized as the mother of humanity, saw education not only as a means of providing women skills for challenges such as employability but also to tackle social risks such as domestic abuse, child and early marriages, etc.
Bangladesh has also done exceptionally well in enhancing women's political empowerment over the last ten years. The WEF has ranked Bangladesh seventh among 155 countries in terms of political empowerment of women. In 2011, the Sheikh Hasina Government increased the number of women's reserved seats in Parliament to 50 from 45. Current Bangladesh parliament has 70+ women members, which is 20 percent of the total MPs. At present, the leader of the House, the deputy leader of the House, the leader of the Opposition, the Speaker, all is women. More women are working in senior positions in the administration, judiciary, police, armed forces etc. than at any time before. Bangladesh now stands 5th among the Troop Contributing Countries or Police Contributing Countries in contributing female peacekeepers. Bangladesh also deployed female officers as Contingent Commander in UNOCI, Ivory Coast, Haiti, Central African Republic, Congo and deployed two female helicopter pilots in DR Congo. Recently, Bangladesh has rewarded the highest national award to one female Brigadier General for her contribution to the army.
Empowering women is much more than a policy for our government. It is at the core of Prime Minister Sheikh Hasina's political ideology. She wants to build a future where world peace and women empowerment remain the corner stone to create a society free from poverty, discrimination, and conflict. Our journey has not reached its end. Our journey will continue till the day we can build a Bangladesh free of hunger, poverty, illiteracy, and exploitation – the Shonar Bangladesh of our Father of the Nation Bangabandhu Sheikh Mujibur Rahman.
We wish a better future by the empowerment of the women and youth. Thank you for your time. Khoda Hafez. Joy Bangla, Joy Bangabandhu. May Bangladesh Live forever!